Paytm Tap to Pay: No Need for an Internet Connection
Paytm has introduced new services on a regular basis to help with the payment process through its app. This is a 'Tap to Pay' service for virtual cards. It establishes a feature where Users can easily use this Paytm payment service to make instantly payments by tapping their phone on a POS machine and using a Paytm-registered card. So, in this article we will go through all the detail of the Paytm Tap Card.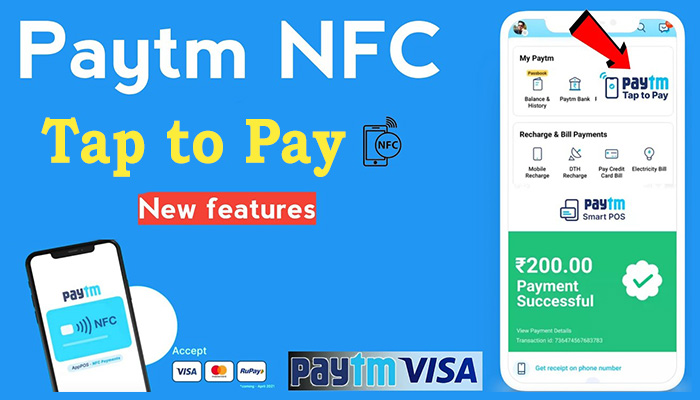 What is Paytm Tap Card?
Paytm, the business leader in digital payments, has introduced the TAP to Pay Card, an NFC-based contactless card that allows users to make payments by simply tapping on merchant terminals while shopping or any other online transactions the user want to make.
The Paytm Tap To Pay service will also work even if there are no internet connection to the user whose account is. This service is available to iPhone and Android users alike. To make payments, one can use All-In-One PoS devices or PoS machines from other banks.
Basic Feature
Paytm, a fintech company, who announced on last week that the immediate launch of a 'Tap to Pay' feature which allows users to make instantly payments using their Paytm card or Paytm apps in a easy and simple way just by tapping their phone on a PoS machine. Even if the phone is locked or there is no mobile data or internet connection, still the user can make payments easily without any occurrence of problems.
Enable Tap and Pay Feature
Here's how you can generate or enable tap to pay feature on your Paytm app on your device are as follow-
First open your Paytm app on your device and select tap to pay on the home screen from there you can choose any of the saved cards or can simply click on the 'add a new one'
After that enter your all the card details and accept issuers 'terms and conditions' for tap to pay.
Next, you will be received an OTP on your registered mobile number or on mail id, verify your OTP. After that your card will be activated and you can work on it at the top of the tap to pay and this will be added on your home screen on your device.
Now you are all set to make payment through tap to pay feature offline or online.
If you haven't activated tap to pay feature on your Paytm app do activate it as it will gonna help you in many ways like your data or recharge has finished and you will have no worries to make payment anywhere and anytime as it enables offline mode of payment, it will be possible even when your phone is locked by just tapping on Pos machine.
Make it a Secure Card
When the card is ready for tokenization. Paytm users can pay by tapping their phone on the POS machine while using the registered card in the Paytm app.
Furthermore, with the latest Tap to Pay service, the company has used advanced technology to convert the selected card's 16-digit PAN number into a secure transaction code.
This ensures that the users credit card information will not be shared with any third-party payment processors. The activated card can be managed via the Paytm app's dashboard. The history of transactions made with the card can also be viewed also in the app.
Paytm will collaborate with Educational Institutions
In the first phase, Paytm will collaborate with events, educational institutions, and corporations to enable quick digital payments via the Tap Card. To pay, the customer simply taps the card at a merchant terminal, providing them with a Paytm payment option even when they are not carrying their phones.
Paytm Tap Card Enables Safe and Convenient Digital Payments
According to the company, the Paytm Tap Card enables safe and convenient digital payments using NFC, completely offline at Paytm-issued PoS terminals in under a second.
Users can add money to their Paytm account by scanning the QR code on the Tap Card and authenticating it at any of the add value machines to make payments (AVM). It also addresses any network-related issues raised by consumers or merchants.
This digital identifier ensures that there will be no third party with whom we will have to share our card details, the card details will remain with you and is not be shared with any third party.
When you will have to make payment, you can just tap and pay on Pos machine on your device. This Paytm feature uses its technology to covert 16 digit primary account number of the selected card into a secured PIN number or a secured transaction code.
FAQ
Does Paytm tap to feature accept contactless payment?
Yes, Paytm tap to feature enable contactless payment through a devices such as mobile phone which are connected with NFC.
Tap to pay feature of paytm is a secure payment transaction?
If you are in a doubt with a Paytm tap to feature is a secure payment method, then 100% sure it is a secure and easy payment method in which you just have to scan and pay through your device without typing any PIN number which is a best thing in a crowded place like restaurant malls, etc.
Can tap to pay can be use without NFC?
To make payment with Paytm tap to pay you must have NFC on your device and must added a card, which will be possible for you to make payment with tap to pay feature and make contactless payment.