Domicile Certificate: Eligibility and Process to Apply
In general, a state government issues a domicile certificate or a residence certificate to verify that the individual who holds the certificate is a resident of the state or union territory described on the certificate. Here is the article with all the details of the Domicile Certificate.
Importance
The state government issues a Domicile or Residence Certificate as proof of residence. This is the most common legal document used to verify a person's residency in a particular state.
A person with a domicile certificate is eligible for a variety of benefits, including schooling, government-sponsored scholarships, and state-quota employment. It also applies to some job positions where native locals are preferred.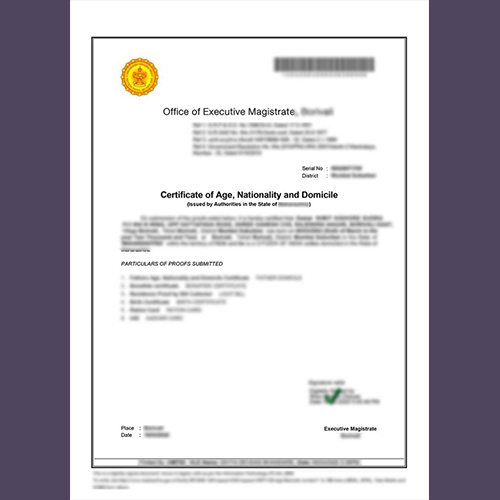 Example
A married woman who was not born in a State or Union Territory but is married to a man who is a permanent resident of that State or Union Territory or who is eligible for the State or Union Territory's Domicile Certificate is also eligible to apply for a Domicile Certificate in that State or Union Territory.
Eligibility
If someone is a resident of India or a valid West Bengal resident with a permanent residence in the state is eligible to use the facility.
A person who has lived in the state for 15 years or who has a permanent residence in the state but works elsewhere.
A Domicile certificate is available to any woman who is not a resident of the state but is married to a permanent resident of the state.
Documents Required
A domicile certificate, as already said, is a document that can be issued under the rules and regulations of a state government. As a result, based on the laws and rules of a specific State/Union Territory, a person is required to provide various papers. The following documents are most often required to obtain a Domicile Certificate:
Residence Proof : such as a ration card or a voter registration card.
Age Proof : such as a birth certificate, a school certificate (10th admission card), and so on.
Photos : Two photos in size of a passport
Identity proof : Aadhaar card or PAN card.
A form for self-declaration.
Completed the application form properly.
Photocopies of all documentation with a government official's signature.
Get a Certificate
The application forms can be obtained from the local authorities (Tahsildar's office/Sub-Divisional Magistrate's office/District Collector's Office/Revenue Department or any other recognised authority in the State/UT).
Note: It is issued by the state government or the Union Territory government and enables people to live anywhere in the state. That's an important document because some state scholarships and exam cut-offs are only available to citizens of the state, and a domicile certificate proves it.
Apply Online
Step 1: Go to to access the respective government's online portal.
Step 2: Go to the home page and choose "Apply For Certificates Online."
Step 3: Enter your username and password to log in. If you haven't already done so, create an account.
Step 4: From the "Apply Online" option, select "Apply for Services."
Step 5: When you click Apply, a page similar to the one below will appear.
Step 6: Complete the application form with all of the necessary information. When you're finished, click Submit.
Step 7: You will receive a confirmation number after successfully completing and submitting the application form. Take notice of the number on the acknowledgement.
Apply offline
If you want to apply for a domicile certificate in person, go to one of the locations listed below.
Revenue Office
Collector/ Deputy Collector Office
Citizen Service Corners (CSC)
District Magistrate Office
Registrar/ Sub-Registrar Office
SDM Office
Mamlatdar Office
Tehsildar Office
Validity
A domicile or resident certificate is usually valid for life. Several state authorities, however, have limited its validity based on the purpose for which it was requested. The minimum validity of a domicile certificate is 6 months.
FAQ
Who is eligible to apply for a certificate of domicile?
A person can apply for a domicile certificate if they have stayed in a given state for more than three years or if their parents have stayed there for more than 3 years.
Is it possible to utilise an Aadhaar Card instead of a domicile certificate?
No, because an Aadhaar Card is basically an identity proof rather than a proof of residency, it cannot be used as a domicile certificate.
What is the fee of a domicile certificate application?
The cost of obtaining a domicile certificate varies from state to state too. While some states do not charge applicants any fees, others may charge anything between INR 2 to INR 60.
How long would it take for me to acquire my certificate of domicile?
The certificate is issued within 7 days of the filing date.
Which department is responsible for the Domicile Certificate?
The relevant department for a Domicile Certificate is the Board of Revenue.