What is cancelled cheque? its benefit and when to use it?
The technology takes over the world and completely changed the way things were done before. It has also improved the financial sector. Digital banking reduces the need for users to visit commercial banks for services such as money transfers, cash withdrawals, and other financial transactions.
This has also minimized the need of cheque books, deposit slips, and other paperwork, which were once an important element of banking services. However, you must understand what a cancelled cheque means and when a cancelled cheque can be useful. Here in this article, you will get all the details of cancelled cheque.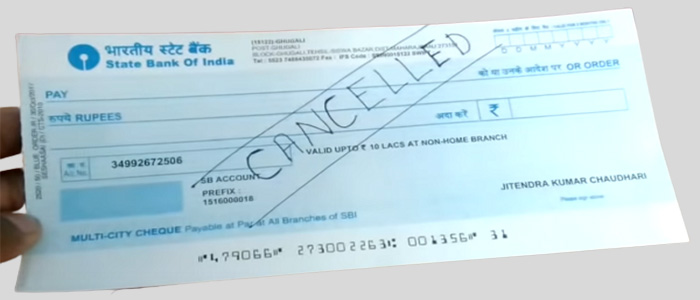 Cancelled cheque
A cancelled cheque is a regular cheque with the word "CANCELLED" written between the two lines. You can also cancel a cheque if you make a mistake, such as misspelling it or entering incorrect information, or if you wish to use it as a KYC, for example. Simply writing the word "CANCELLED" on a cheque is enough to cancel it. It is generally cancelled to assure that the cheque is not misused in any way.
A cancelled cheque can also be used to show that you have a bank account. A cancelled cheque can provide account information such as account number, your name (as it appears on the bank account), MICR code, bank name, and bank branch, even though a crossed cheque cannot be cash.
Three parties to a cheque are
Cheque Drawer: The drawer is the individual who signs the cheque or directs the bank to pay a defined sum of money via a cheque.
Drawee of the cheque: The drawee of the cheque is the bank which has been ordered to pay the stated amount according to the cheque.
Payee: The payee is the individual to whom the bank is required to pay the money.
Information contains in cancelled cheque
Account number
MICR code
IFSC code
Bank name
Branch
Account holder's name
Cheque number
As a result, it is recommended that the cheque should be carried carefully to avoid any misuse that could result in serious financial losses.
Write cancel cheque
Now, you know what is cancelled cheque, so now you should know about how can you write it. So, these are the following steps for writing cancelled cheque –
To cancel the cheque, choose a different one. Make sure you do not even put your signature on it.
Across the cheque, draw two parallel lines.
In block letters, write the word 'cancelled' between the lines.
Cheque that the parallel lines on the cheque do not hide details such as the account number, account holder's name, MICR code, bank name, and branch address.
Needs of cancelled cheque
Mutual Funds – If you want to invest in mutual funds or the stock market, you'll have to open a Demat account. To open the account, the corporation will ask you to provide a cancelled cheque to verify that the account of your bank that is associated with the investment to identify thew real identity The cancelled cheque is required in accordance with Know Your Customer (KYC) rules.
For KYC – When investing in the stock market, mutual funds, or other financial schemes, the most important thing to present is a cancelled cheque for the verification purpose.
For EMIs- When purchasing a gadget or a high-value item, Equated Monthly Instalments (EMI) is the most popular way of payment. Even with loans such as a car loan, a home loan, an education loan, or a personal loan, people actually pay monthly instalments. To begin the monthly instalment process, you must present a cancelled cheque as proof of bank account owner.
EPF – Withdrawal of EPF ( Employee Provident Fund)- When withdrawing money from the EPF, a cancelled cheque is important to confirm the account details of the individual withdrawing.
Caution for cancelled cheque
To provide a cancelled cheque, just draw two parallel lines across the cheque and write 'Cancelled' in the space between the two lines. Your signature is not required on a cancelled cheque. It contains data such as the account number, account holder's name, MICR code, bank name, and branch address.
While a cancelled cheque cannot be used to withdraw money from your account, it has been used in the past for fraud or theft. As a result, it's advisable to take extreme caution while issuing a cancelled cheque and to verify that the individual to whom you're handing it off is absolutely trustworthy.
Conclusion
Cancelled cheques could be used for a number of purposes, but they can also be misused. As a result, make sure you hand over a cancelled cheque to a correct individual who has been allowed to receive the cancelled cheque by a company or a bank. It is a vital document, but unfortunately, many of us are unaware of its significance and purposes. Hopefully, this article gives you with the necessary information about the cancelled cheque.
FAQ (frequently asked questions)
How many times I can use the cancelled cheque?
You can use for multiple times a cancelled cheque
Do I need to make sign on a cancelled cheque?
No, a cancelled cheque does not require a signature.
How can I cancel a cheque?
Simply writing the word "CANCELLED" on a cheque is enough to cancel it