SBI IRCTC RUPAY CREDIT CARD
Piyush Goyal, the railway minister, introduced the IRCTC SBI Card on the RuPay technology on Tuesday. The card, which is designed to reward regular train passengers, provides the best value for money on travel, as well as greater advantages in shopping, eating, and entertainment, as well as processing fee waivers.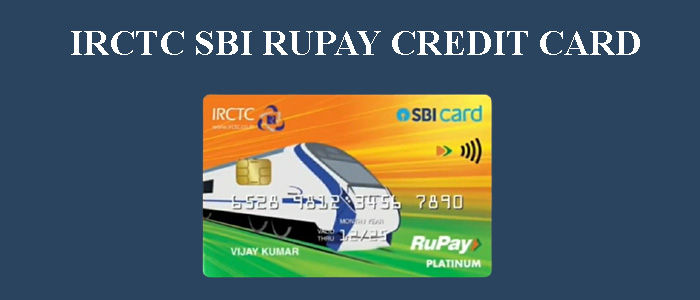 The IRCTC Rupay card, which was established in collaboration with the State Bank of India, is a travel credit card designed specifically for railway passengers. This credit card offers a variety of travel rewards in the form of advanced points, as well as rewards in other areas such as fuel taxes and lounge access. The card comes with an Rs.500 annual fee and a monthly interest rate of 3.50 percent.
Benefits
Here are some of the benefits of the SBI Rupay credit card
The IRCTC SBI RuPay Credit Card is a wireless card that utilizes a radio wave-emitting contactless chip to provide a safe method for consumers to pay for goods and services.
Those who use this credit card will also be free from a 1% fuel surcharge.
On shopping and railway bookings, users can also take advantage of a variety of cash-backs, rewards, and extra points.
On railway bookings, the IRCTC SBI RuPay Credit Card gives up to 10% value back.
It strengthens the SBI card portfolio on RuPay platforms by being connected with Near-Field Communication (NFC) technology, which allows users to tap and pay.
Limit on Card
The IRCTC Rupay SBI card's credit limit will be issued at the bank's decision. Before approving a credit limit, the State Bank of India will consider a number of factors, including the primary applicant's credit score, credit report, credit utilization ratio, and past and current debt repayment practices.
Features
There will be no joining cost till March 31st.
On Indian Railways ticket bookings made through the IRCTC online portal, you can get up to 10% back in reward points (1 reward point = Rupee 1).
Users can redeem reward points for free train tickets for themselves, family, and friends -For the first 45 days, users can get 350 bonus reward points on transactions of Rs 500 or more.
Train ticket bookings made through the IRCTC website have a 1% transaction charge waived
The IRCTC Rupay SBI Credit Card also provides complimentary premium railway lounge access (1 visit per quarter)
The smart card also has a 1% fuel surcharge waiver at all gas stations.
The National Common Mobility Card has an online and contactless transaction feature. In addition, a wallet feature for tap-and-go payments at the metro, platform tickets, tolls, and other locations will be available soon.
The newly released smart IRCTC SBI RuPay Card offers a variety of incentives to online buyers. Fitternity, Medlife, Me N Moms, and more retailers offer discounts to customers or members. The card also provided a variety of welcoming benefits to its users, such as 18% off purchases of 1Mg drugs, up to 40% off diagnostics, and a 10% fee waiver on any Upgrade course, among others.
Eligibility Criteria
A credit card's qualifying criteria are based on a variety of things. Examine the most important credit card eligibility criteria.
Status of employment : The main candidate must be employed or self-employed and have a regular source of income.
Nationality : He must be an Indian citizen or a non-resident Indian.
Age : The candidate must be 18 years old or older.
Credit Rating : A good CIBIL score is a big part of getting your credit card application accepted.
Income : The candidate must be employed or self-employed and have a regular source of income.
Fees Structure
Fees: Rs. 500 (one-time) annual fees (waived until March 31st).
Renewal Fee: Rs. 300 (per annum).
Add-on Fee: Nil (per annum)
Documents Required
Two colored photos (passport size)
Proof of Identity (any one) – Aadhaar card, passport, driver's license, voter's ID, PAN
Proof of address (any one)- Aadhaar card, passport, driver's license, voter's ID, power bill, telephone bill, post-paid mobile phone bill, bank account/post office savings bank account statement
Salaried – most recent three months' pay receipts (or) past three months' bank statements
Self-employed – previous year's ITR, as well as bank statements for the previous three months and Form 16
Apply for SBI Card (on RuPay Platform)
FAQ
How can I get IRCTC SBI Credit Card points?
Log in to www.irctc.co.in using your username and password. & AC Chair Car) reservations, select the Redeem Loyalty Points option to pay for your journey ticket. SBI Card Travel Reward Points can be redeemed in multiples of Rs 1 only.
Is contactless technology available on the IRCTC Rupay SBI Credit Card?
Yes, the credit card is contactless and can be used to record a transaction by passing it over to the card reader.
Is there a fee for exceeding the credit limit on this card?
Yes, you must pay 2.5 percent over-limit fees.