15 to 18 Year-Old Citizen Registration and Appointment for Covid Vaccination
Dr. R.S. Sharma, the platform's chairman, indicated that students between the ages of 15 and 18 will be able to register on the CoWin site beginning on January 1, 2022, and that their student ID card would serve as their form of identification.
According to the official, vaccinations will begin on January 3 and registration and administration will be the same as for adults. The information you need is here.
An outbreak of the Omicron coronavirus strain in India has prompted Prime Minister Narendra Modi to announce that students aged 15–18 would begin receiving Covid-19 vaccinations on January 3 and healthcare and frontline workers will begin receiving the shots as a preventative measure on January 10.
Citizen Registration and Appointment for Vaccination
Features
The following features will be available for the Citizen in Self Registration module
• Register for a vaccination session (with a choice of registering additional 3 members)
• Selection of Vaccination center of convenience based on the vaccine name
• Schedule vaccination as per slot availability at a Center
• Cancel/Reschedule Vaccination
Registration
User can go to the url www.cowin.gov.in and click on "Register/Sign In yourself" tab.
• Enter valid mobile number. Click on "Get OTP" button.
• OTP is sent at the phone number via SMS.
• Enter the OTP within 180 seconds and click on "Verify" button.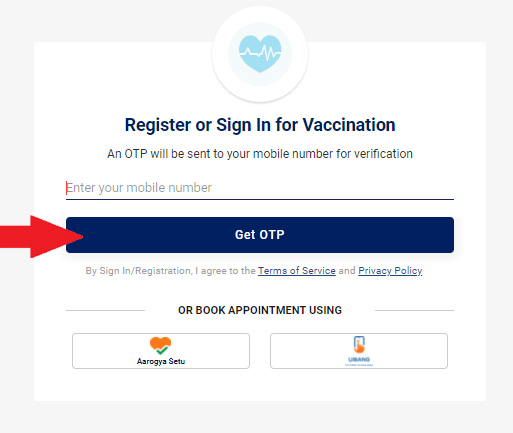 Once the OTP is validated, the "Register for Vaccination" page appears
• Enter details required in page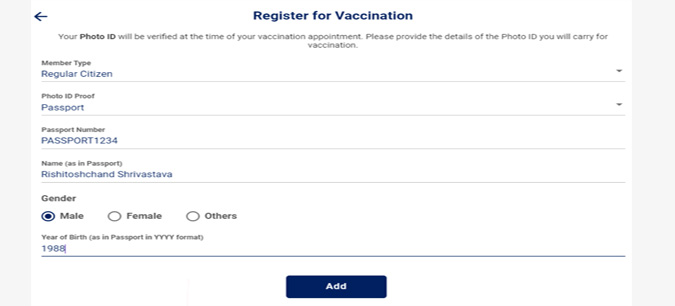 • Mandatory Field to be Filled by the Beneficiary for Registration
• The below table shows the details to be entered in the "Register for Vaccination" page. Please
note that all fields in this Form are Mandatory
#
Field Name
Details
1
Photo ID Proof
Select appropriate ID Card from the Dropdown list . Citizen must carry selected ID at the time of vaccination.
2
Photo ID Number
Citizen to enter ID number
2
Name
Enter the name as per the selected ID proof
3
Year of Birth
Enter the year of birth as per the ID Proof in the format YYYY
4
Gender
Select Gender (Male/ Female/ Others)
Once the details are entered for registration, Click "Register" Button at the bottom right.
Receives Confirmation message on successful registration
Add More Individuals
• Once registration is completed; the system will show the "Account Details".
• Citizen can further add 3 more people linked with this mobile number by clicking on "Add More" button at the bottom right side of the Page.

Login with username and password, and Navigate to the dashboard.
Click action button to Delete a member.
Confirmation message will appear on Deletion.
Booking Appointment for Vaccination
• Citizen can schedule Appointment from the "Account Details" page.

• Click on "Schedule" button for Booking Vaccination Appointment.
• System navigates to "Book Appointment for Vaccination" page.
• Search the Vaccination Centre of choice by District or Pin code.

• On clicking "Search" button, system will display below the list of Vaccination centre as per
Search Criteria and based on State's Age policy.
• Centre Names available nearby as per state/district or pincode entered will be displayed.
• On clicking any centre at the panel, the available slots (date and capacity) will be displayed.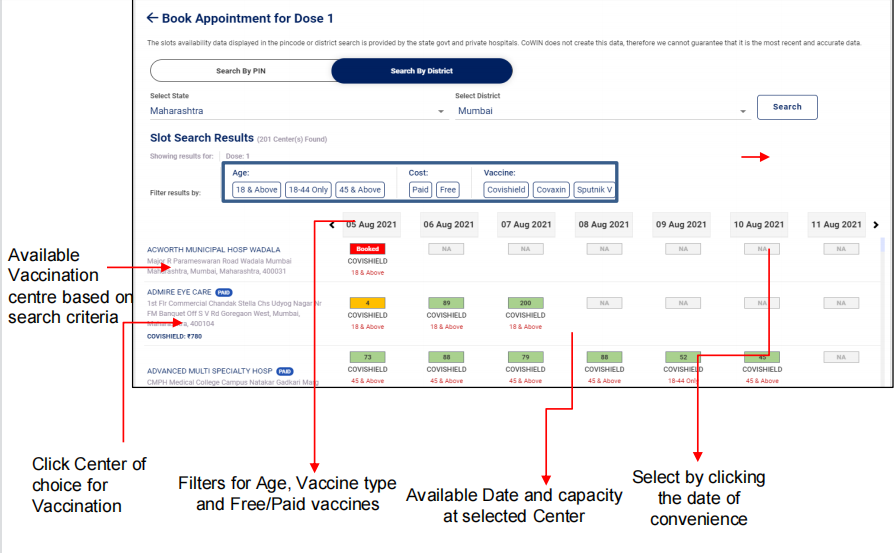 • Once "Book" button is clicked, the "Appointment Confirmation" page is displayed.
• Click "Confirm" button after verifying the details for final confirmation on booking.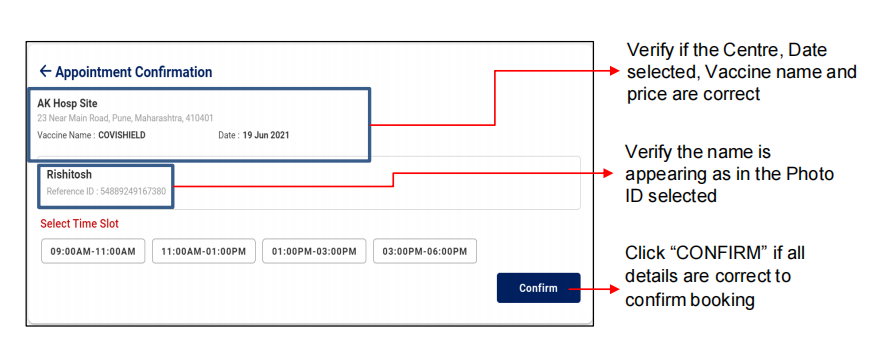 • Once confirmed, the confirmation page with "Appointment Successful" message will be displayed.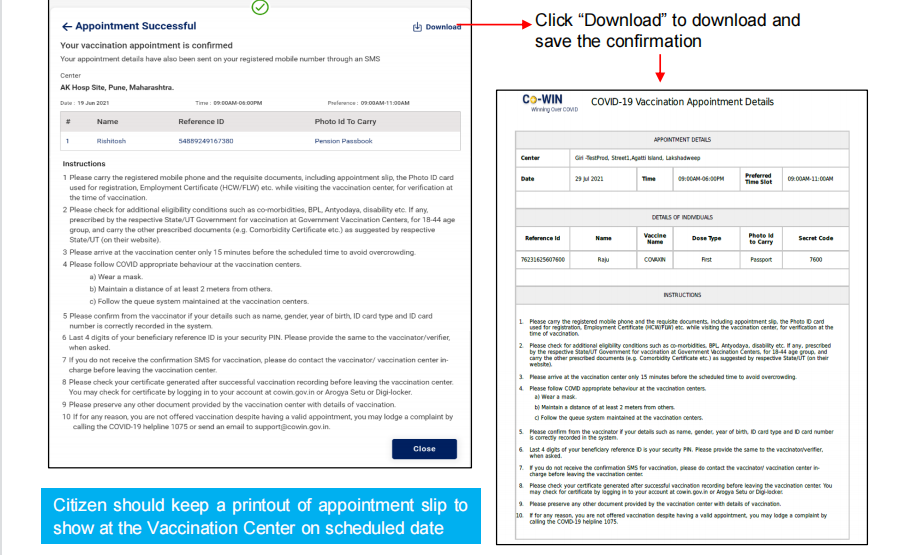 What immunizations will be available to those who need them?
Official sources tell PTI that Bharat Biotech's Covaxin is expected to be the sole COVID-19 vaccine available for individuals ages 15–18 who will be vaccinated on January 3. In spite of the fact that Zydus Cadila's ZyCoV-D vaccine gained emergency use authorization from the drug authorities on August 20, it has yet to be used in the country's vaccination programmer, even for adults. ZyCoV-D is the world's first DNA-based needle-free COVID-19 vaccine created by an indigenous company.
Covaxin has two dosages, while Zydus has three. "It's up to them (the public) to decide, but they'll have to check what vaccines are available at each vaccination center. In terms of immunization options, "there will be a wide range of options available," Sharma added. In a nationally televised address on Saturday, December 25, Prime Minister Narendra Modi said that vaccination against COVID-19 will begin on January 3 for people aged 15 to 18 years, and that the "precaution dosage" would be provided to healthcare and frontline workers on January 10.
For the COVID Vaccination Initiative
Early and aggressive efforts were made by the government of India as early as April 2020:
Co-chaired by the Member (Health) of NITI Aayog and the Union Health Secretary, the "National Expert Group on Vaccine Administration for COVID-19" (NEGVAC) would create a detailed action plan for vaccine administration in August 2020.
COVID immunisation can be made universal, transparent, simple, and scalable with the help of the CEO of the National Health Authority's "Empowered Group on Vaccine Administration for COVID-19" (founded in January 2021).
All of India's adult citizens will get vaccinated as soon as possible as long as the government's commitment to the immunization program me remains steadfast and proactive.
Experts in the fields of immunization, public health, disease control, and information technology have helped shape India's COVID vaccination program.
As a result of scientific and epidemiological facts, the initiative prioritizes building the country's healthcare system by protecting the experts, health and front-line employees who staff it and protecting the most vulnerable population groups as well. COVID immunization in the country began with vaccination of all healthcare workers.
In order to keep up with population growth, the program was eventually expanded to include vaccinations for everyone from first-line employees to senior residents, among other groups (those 60 and older, as well as those 45 and older). Because of this, numerous states experienced difficulties in funding, obtaining vaccines, and transporting vaccines, which hindered the development of the National COVID Vaccination Program's efforts.
Private hospitals that are smaller and more secluded were also identified as being under financial difficulty.
Several initiatives were announced on Tuesday during a meeting between the Union Health Secretary and representatives from the states.
Several states have been urged to build separate dedicated COVID immunization centers for adolescents and young adults aged 15 to 18.
At all other locations, separate vaccination teams and queues for the 15–18 age range have to be maintained.
Moreover, states have been requested to provide training to the vaccination workers and policemen who will be in charge of administering vaccines to the youngsters.